WELCOME!!!!  Welcome to RL Vally Ranch Aussies!!!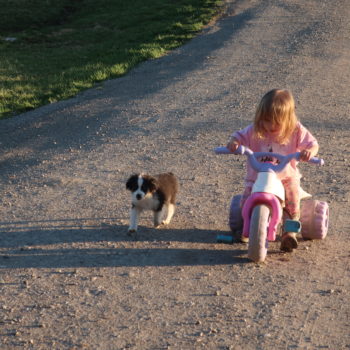 We love aussies of all sizes, from our standard working dogs, to our loving toy aussie lap dogs, they each hold a special place in our hearts.
Both my husband and I have been around aussies our whole lives, both as family pets and working companions on the ranch.  The loyalty, biddibility, and intelligence of aussies is what we love most about the breed.  We live on our cattle and horse ranch in Southeast Ohio, and aussies are the perfect fit to our lifestyle.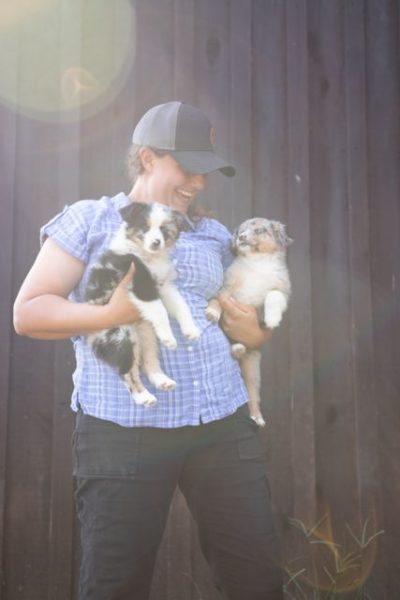 When searching for a future working dog for our ranch, I came across the smaller versions of aussies, the mini and toy.  Love at first sight!!!  The personalities on these little dogs are incredible, and I just had to have one!  Or 2… or 3!  And so began our journey into the world of aussies!!  We love toy & mini aussies, they are so much fun having the aussie traits all wrapped into a smaller package to fit into our homes as loving pets.  Easier to travel with, easier to maintain in a household, but keeping the aussie charm and look that we adore ; )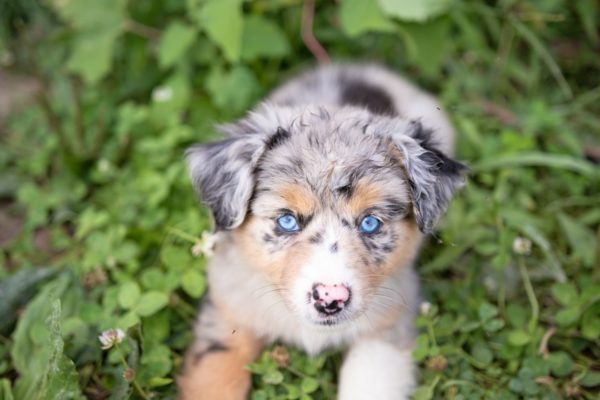 All our dogs, regardless of size, are held to high standards of first and foremost TEMPERAMENT, to be a part of a family is job #1.  Having a beautiful dog but one with a bad temperament that is hard to live with, is not the ideal companion.  Our Aussies are all a part of our family.  They live in our home, are around us all day every day, and have been loved on and handled by our 3 energetic kids.  Our Aussies have the temperaments that make them excellent companions and fit easily into our lives.  We feel the more we know and share about the parent dogs, the more we can predict how the puppies themselves will turn out, and more accurately match puppies temperaments with the right family.
Secondly, our aussies must be of HEALTHY lineage.  Our aussies are screened and cleared for all of the possible aussie hereditary genetic diseases.  What does all this mean?  It ensures our puppies are healthy and happy and we are producing the best dogs we possibly can!  To learn more about our health testing CLICK HERE!
Thirdly, our aussies are raised in our home, in an environment to help puppies with socialization with people, KIDS, & other dogs.  We proudly use Puppy Culture methods, lots more info on that HERE.  It is so very important that a puppy gets this type of exposure those first 8 weeks.  The loud hustle and bustle of the ranch, the energy of kids running around playing, all plays a vital role in exposing pups to normal every day life.  Early socialization truly does make a difference and puts pups on the right path to being a well socialized, confident dog.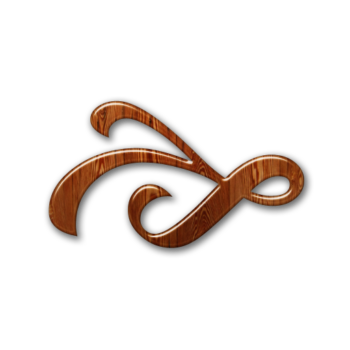 What sets RL Valley Ranch Aussies apart:
Our Aussie puppies have their tails and dew claws left intact!!  Info here:  Mini & Toy Aussies with TAILS!!
Raised using Puppy Culture
Training:  coming to puppy call,  potty training are all well started!
Crate Conditioning:  We teach puppies that crates are a happy place to be!
Car exposure:  All pups practice going on adventures!
9 weeks:  Some pups go through a fear period at 8 weeks.  We keep pups with us until we feel they are ready for their new homes!
Pick up or Delivery:  We prefer you pick up your pup and meet us in person, but this is not always possible.  We only use a flight nanny to transport pups.  More info HERE.  We DO NOT fly pups cargo.
Community:  A lifetime of support.  We are always available for questions and ongoing support.
An awesome Puppy Started Kit!!
Check us out on youtube!!  We post videos weekly as litters grow!!